Pan Tilt Tripod Head
Our Pan Tilt Tripod Head is an extremely versatile camera mount that essentially lets you position your camera at any angle you want.
You can use the mount on top of a tripod, attach it to other devices like a dolly, or just use it right on the ground.
Due to the constant friction in the joints of the tripod mount, you can move your camera around freely without the need of constantly adjusting and loosening knobs.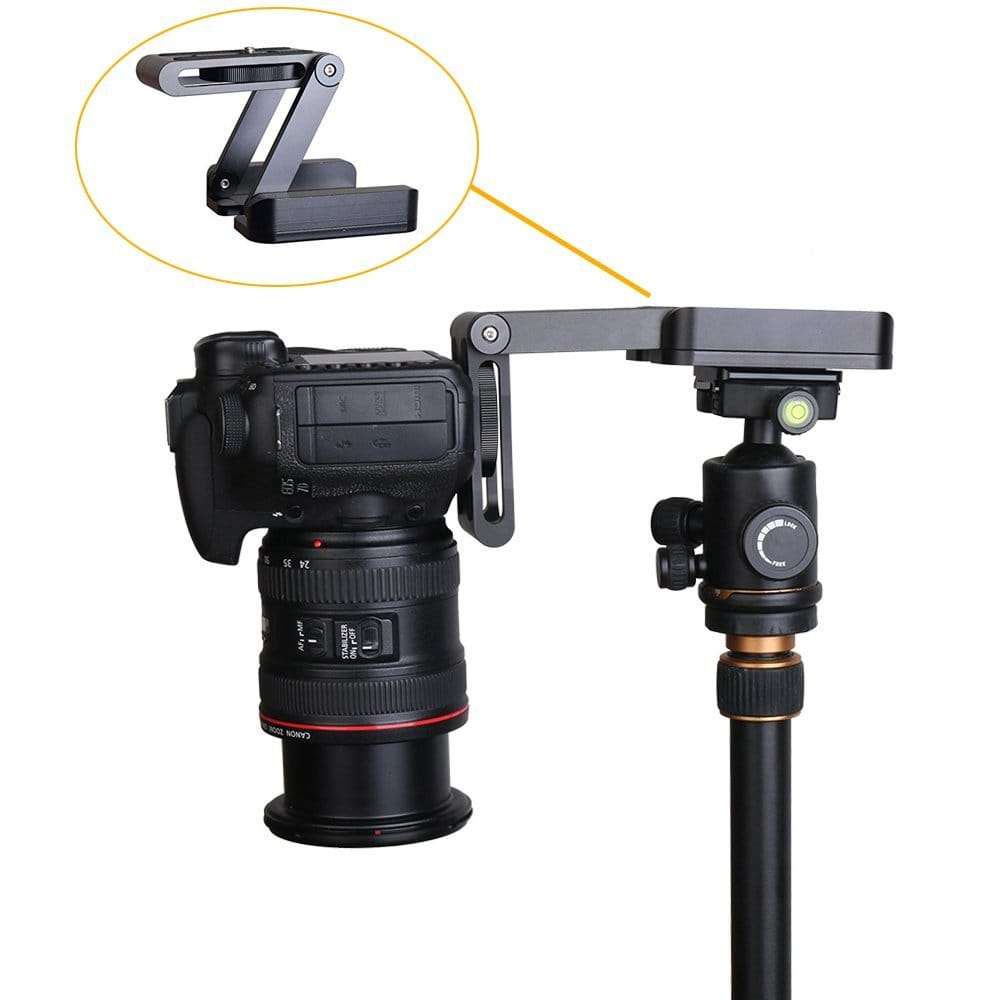 Features:
Easily find the angle that you need, even while shooting!
Can work with any tripod, slide rail and stabilizer for camera and camcorder.
More stable, Lightweight and flexible.
Mounting Options: 1/4" on top and 1/4" 3/8" on bottom
Standard Load-bearing: 3kg/6.6 lbs.
Material: Aluminum, Carbon Fiber
Open Size: 9 x 9 x 9.5cm / 3.5 x 3.5 x 3.7in
Folded Size: 9 x 9 x 2.15cm / 3.5 x 3.5 x 0.85in
Item Weight: 382g / 13.5oz
Compatible with: All (Universal)
Package Includes: 1 x Tripod Head 
Customer Reviews
Premium camera mount
It works well but have still to figure how to use it as a slide mount to be able to slide the camera sideways like on the advertisment
06/01/2018
Albert M.
Spain
Excellent bit of kit.
I bought it in order to use it with a projector rather than a camera and the fact that I can adjust it to any angle.has made my life a great deal easier. I can throughly recommend this product.
05/27/2018
Johnny D.
United States
Greatest gadget in my bag
I love this. It has made a lot of things easier that I could have imagined. Thank you for this camera accessory!!!!
MD
05/16/2018
Mary D.
United States
Premier Camera Mount
I love the fact that this mount will hold a camera still in any position. This is so important to avoid camera shake. Plus, I use a remote. This is just the handiest gadget yet that I have purchased for my still life photography.
05/16/2018
Terry Q.
United States
Great for Tabletop/Macro Photography
If you like to do macro photography or "still life" type photos, this product works much better than the more common "tabletop tripod". It's solid, compact and easy to position. It's not a replacement for a conventional tripod but for what it does, it does very well indeed.
05/15/2018
Gordon R.
United Kingdom
Camera mount
The mount is quite heavy but adds stability to the camera when I'm using it. Very happy.