Knitted Mermaid Tail Blanket
Lets be honest, most of us have always dreamed of becoming a mermaid!
Something about being a mystical creature of the sea is just so mesmerizing.
Our Knitted Mermaid Tail Blanket won't turn you into a real life mermaid but it will keep warm on cold nights.
Plus you'll look really cool in pictures!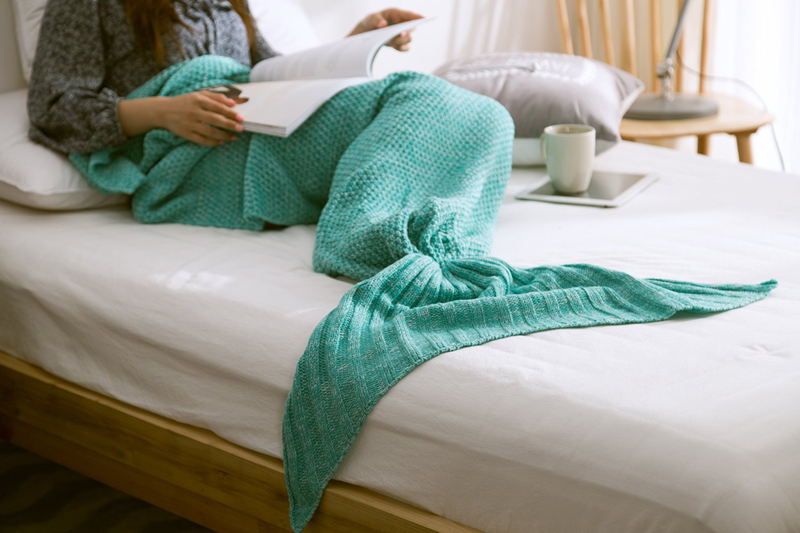 Product Details
Our mermaid tail blanket is a crocheted blanket that makes your dream of being a mermaid come true.
The blanket is handmade to ensure high quality craftsmanship.
It is made with a big enough opening to stick your legs in and the bottom is shaped like a cocoon for a snug fit!
All you have to do is stick your legs in, get comfortable and relax!
Sizing Guide
Due to popular demand we've brought out more szies and colors so more people can enjoy our mermaid blankets!
We have 3 different sizes available to fit everyone from toddlers to grown adults.
You know what this means, right?
YUP! Matching mermaid blankets for you and your entire family, woo!
Small - 90cm x 50cm | 35.4in x 19.7in
Suitable for toddlers or smaller children
Medium - 140cm x 70cm | 55.1in x 27.6in
Suitable for teenagers and/or shorter adults
Large - 180cm x 90cm | 70.9in x 35.4in
Product Specifications
Fabric: Acrylic

Size: Small, Medium, Large

Colors: 8 different colors options

Washing: Machine wash on cold water, tumble dry on low heat.

Do not bleach

Package contains: 1pcs crochet mermaid tail
Customer Reviews
I recommend this product
My little mermaid!
I bought two of these blankets! One for me and another for my daughter. I thought it'd be fun for us to both have one. It's a little thinner material than I expected but it's still really nice and we both loved it!